Professionals or individuals can benefit from The BobbleShop technology online without the need to get scanned before. The ONE-PHOTO solution offers to create a 3D figurine by uploading, on a webstore, one single front face image from a computer or by taking this image with a smartphone. We can also propose white labeled apps on IOS/Android to achieve same objectives.
---
A. SELLING FIGURINES WITHOUT USING THE 3D PHOTOBOOTH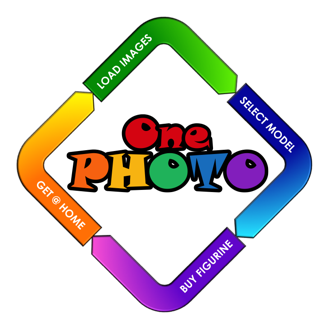 ONE-PHOTO is a plugin integrated into a Shopify online store for extending the sale of 3D figurines online when the person has not been scanned at a shop or during an event. For achieving this, the consumer connect on the website including the plugin. The website can be accessed from a computer or a smartphone. The consumer can either upload an image of its face from the computer or take a photo with its smartphone. The Website sends this image to online servers that will create the realistic 3D avatar of this person in a few seconds. The avatar is then displayed in the website and the consumer can then select its favorite character, personalize it by changing colors or clothes and put it in a shopping cart. The consumer then validates the cart by paying for the figurines ordered by bankcard or PayPal. Once the order has been paid, the website generates the 3D files for printing and sends it to the online 3D printer that will manufacture the items. Figurines are then sent by Postal mail to the consumer's home in 10 days.
How do i start the business?
Digiteyezer delivers OnePhoto software; the cloud based architecture and processes as a plugin (API), which is used in a webstore developed and powered by Shopify (http://www.shopify.com). Shopify is a framework that offers many capabilities for creating on online shop that can be used from a computer or a smartphone application. With Shopify, you choose a template or create your own design.
Then the platform helps you from selecting an of object to the payment of goods on your site. Monitoring and administration tools help you in managing your sales, revenues and margins. For enabling a OnePhoto webstore, you or your designer get the plugin from Digiteyezer and integrate it very easily into a Shopify boutique. The website then benefits from many capabilities from both the Shopify framework and The BobbleShop technology.
These two frameworks help you to launch a 3D printing business very quickly and make a lot of money with a minimal investment and resources.
Existing websites?
Digiteyezer has already installed this service for many partners. You can find some examples of websites by clicking the images below.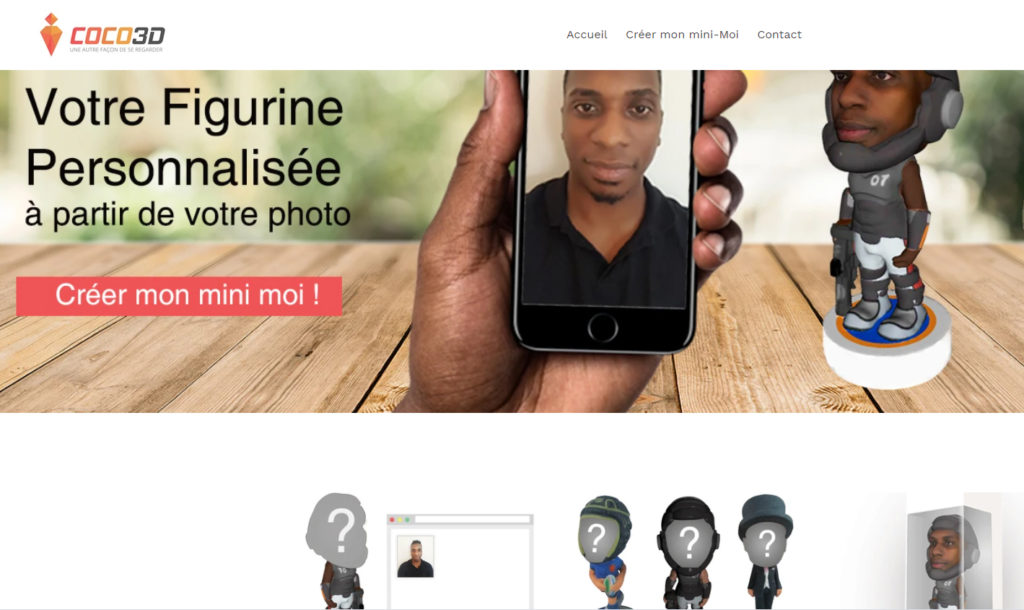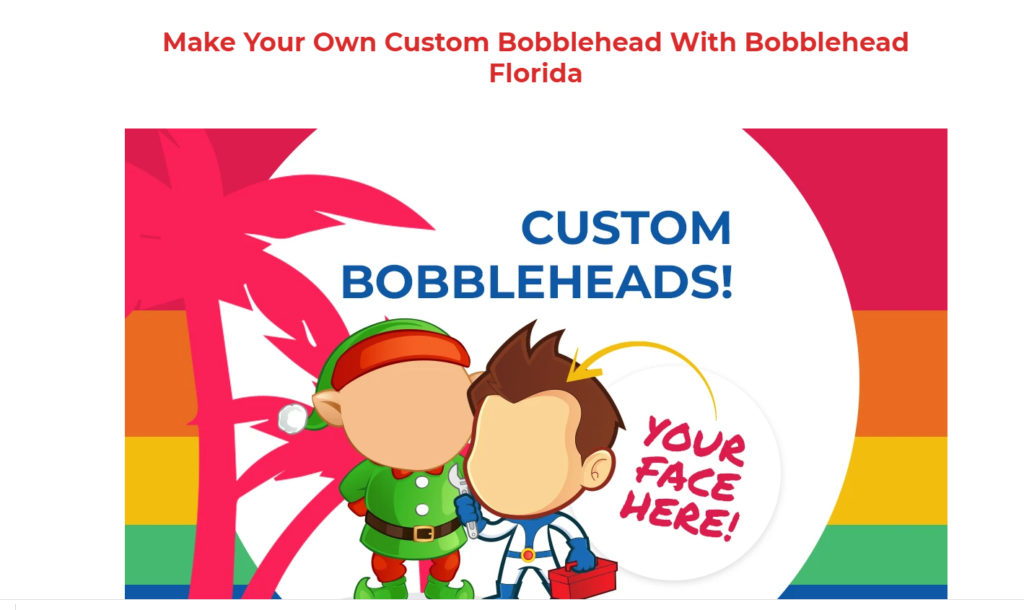 ---
B. WHITE LABELED MOBILE APPS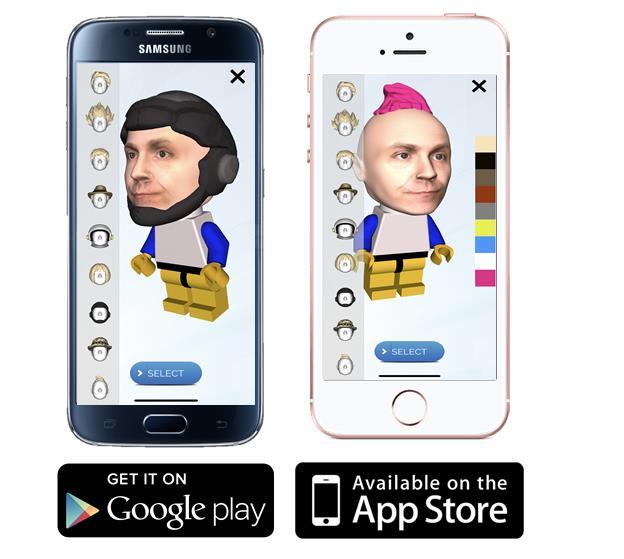 In addition to Online webstore, Digiteyezer has widen the possibilities to scan faces and sell 3D printed figurines by using mobile applications. These applications introduce 3D scanning capabilities into the pure consumer market by allowing individuals to scan themselves and purchase online 3D printed gifts made with their 2D realistic avatar. The mobile applications are available for iPhoneX (3D scanning with the device) or any other iOS/Android devices (3D scan has been done with a 3D booths, in a shop or during an event). These apps can be customized and branded to a given name/color/style/usage.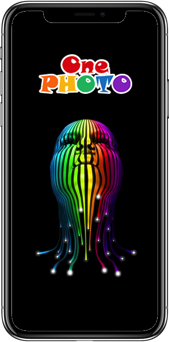 App for iOS or Android phones : The classic app can retrieve/display/use the 3D datas reconstructed by one of our 3D Booths. The avatar is displayed in a catalog of 3D models than the user can choose. User can thus buy directly on the Smartphone one or several 3D figurines that will be 3D printed and then delivered by Post to the consumer's home a few days later. Other usages like animation/gaming/AR/VR/virtual trying/etc. can be developed on demand.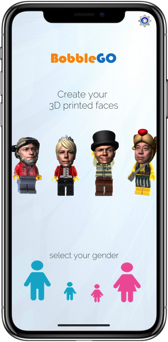 App for iPhoneX : This app can use the 3D depth camera of the iPhoneX for scanning in 3D the real geometry of the person. A 3D realistic avatar is created and then displayed. The 3D avatar is then used for proposing different 3D models of figurines to the consumer. The person can choose his favorite model and order the item, which will be printed in 3D and delivered at home by Post a few days later.
You want to try?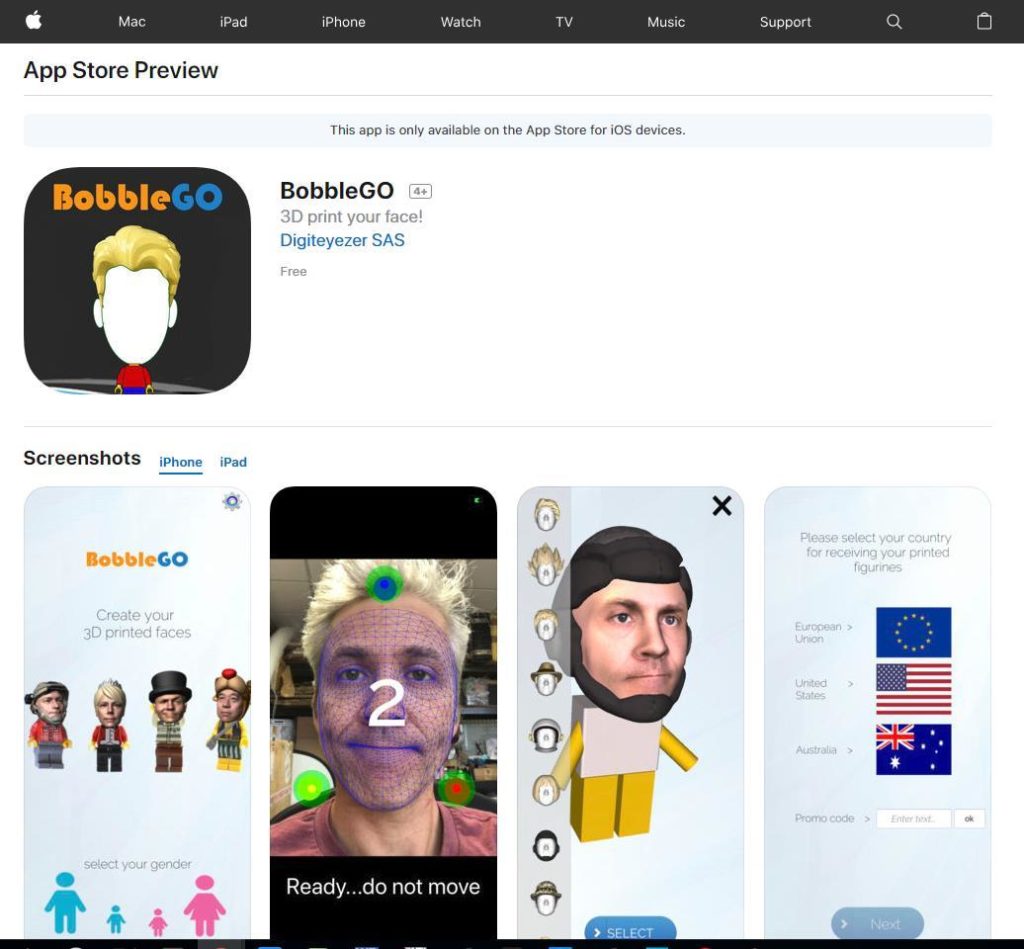 ---
---
---
Contact